Design, print custom tshirts online, Football team jersey avatars
Now you can get a personalized T-shirt with your favorite football team on it. The best part about the same is that you can put your name as well on it. So, the ardent football fans will have something great to harp about when they go out to watch a match with their friends. This could be a fashionable way to flaunt off in front of all the people, especially when the world cup is on. All you ought to do is choose the team that you fancy the most, and you are set to go to make your own custom t-shirts and cheer them on. Don't forget to these tips for taking great selfies your phone.
Design, Order Personalized, Custom Printed T-Shirts Online
Go to these sites for creative tshirt design ideas.
1. Design and order personalized t-shirts online
If you are wondering how to design these Custom T Shirts online, there are many sites that can help you. These websites allow you to design the T-shirt the way you like it. They will also let you put your name on it along with the number of the player you are a great fan of. Since these websites similar to Iron On Transfers have all the major leagues and teams, it won't be difficult for anyone to get a T-shirt of their choice.
This can be a perfect way to create a custom avatar in time for the World Cup or the image of the blazer of your favorite player or to customize for any group or event. There are many websites that offer you the same deal. VistaPrint, PrintLand and PrintVenue are some of the best online tshirt printing in India. People in the USA can try CustomInk.
These websites offer great deals at a minimal cost. They also deliver the T- shirt at your doorstep, avoiding the turmoil that one has to go through finding the same. It also saves the time that one would spend bargaining to the high costs that the shopkeepers would quote. These websites save us from all the rigmarole and also provide the thing of our choice on our doorsteps, we should choose them over the painstakingly expensive markets.
2. Create tshirt avatar of favorite football team with your name
Football Shirt Maker(Link) is a service that allows you to create the jersey uniform of football teams with your name or of your favorite team in the world cup.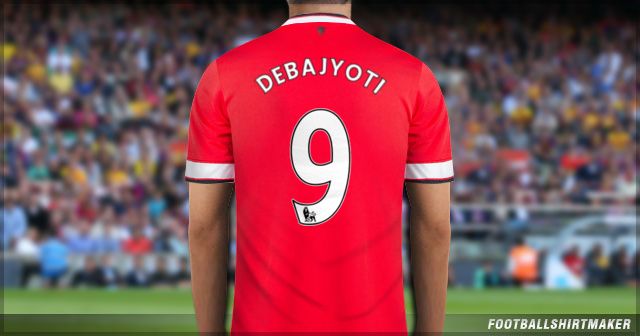 Create soccer jersey with your name and number. To generate the t-shirt just choose a team from the many available, add the words and the number and save. There are all national major leagues and teams. Perfect for creating a custom avatar in time of the World Cup or for the image of the coat of your favorite player.
The best part about the customized jerseys is that they look excellent on both boys and girls. Anyone can pull these off, especially when you have your name on it. These prove to be a great thing to flaunt in front of friends too and also make a delightful companion during world league matches.
Everyone should get a jersey of their favorite teams personalized and have parties of the same theme. Since, football is a rage worldwide, this will add to the gala of that sport. Also, something to have that shows your name off, might be a modern thing. So, place your order and become a die-hard football fan.