Create Smartphone Apps Online Easily with Cloud Based Monaca.mobi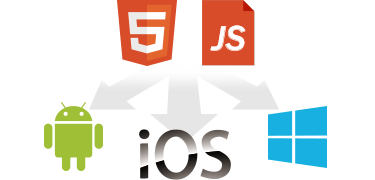 Nowadays, all online businesses and websites are going ahead creating their own mobile versions of their sites. This is primarily because most the website traffic are nowadays from mobile device and tablets. If this is something your business is in the process of or you have already had an app available for a while, it may be worth checking out sites like PieSync, in the hopes of finding out how you can get more out of using apps for your business and how data integration can play a part too. The more you know, the better. Some choose to create responsive version of the website UI while most others like e-commerce and social sites create their own apps which support popular mobile operating systems.
Thankfully there are few sites out there which lets users create their own apps online through a cloud based web application (similar to a cloud-based business application) easily without the user needing to know much about how the mobile OS works and just focus on the development of the app quickly using simple coding languages like HTML5 and Javascript. If you've completed your first mobile app, you may want to look at mobile app performance testing just to see how good of a job you really did, who knows perhaps it become your next hobby turned passion / job!
Recently we came across one such site called Monaca.mobi offers developers the freedom to develop applications in HTML5 and JavaScript, and deploy across multiple platforms like Android, iOS and Windows 8!
Monaca's highly-integrated development environment is cloud-based, hence developers can create apps from their browsers collaboratively.
The development environment and your source code is all stored on the cloud, enabling you to develop applications anytime and anywhere.
Monaca's user-friendly, integrated editor includes useful features like "code highlighter" and "syntax checker".
Also, you can check your application's real-time performance using Monaca's "inspector", "live preview" and "debugger".
When it comes to security, fear not: Monaca secures your project sources via an automatic code backup system, a connection to Git and WebDAV access.
With the click of a button you can easily preview your app at any point in the development process. Monaca also provides detailed tutorials documented for each of the steps of the multifunction tools it provides. Developers can access them at docs.monaca.mobi/en/learning.
One can also find some sample apps which have been created with Monaca and it includes the development guide as well as the entire code of that that runs behind in the backend.